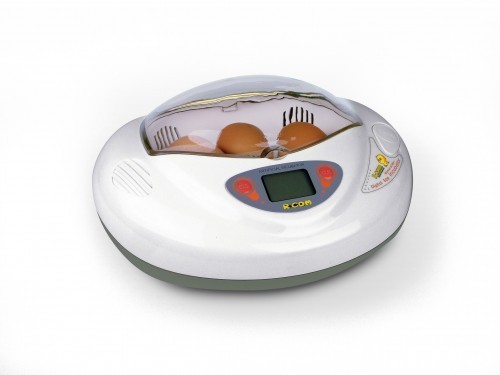 R-Com Mini Egg Hatching Incubator
This giveaway ended on Jan 28th...

This is a great kick off for our new website!! I reached out to Incubator Inventory and asked them if they would like to sponsor a giveaway for all our members and they are excited to do so!

They are giving away a R-Com mini Egg Hatching Incubator as shown on the right but you can buy one as well if you want one now!

R-Com Mini info:

Great for schools and children who are interested in creating young chick lives!
The new EZ Scope model is the perfect accessory to the R-Com 3-egg digital incubator. Just replace the clear view window of the incubator by the egg scope and you can watch embryo development without disturbing the incubating eggs.

A ring of bright white LEDs give an excellent view of the eggs contents and you can also control the focal point of the scope but be sure to replace the EZ Scope with the incubator clear view window after observing the eggs. max 3 hen eggs or 7 quail eggs.

Standard Warranty: 1 year
The RULES.......... Must be 18 .......... You also must.........

EXTRA CREDIT..........
SITE INTERACTIONS:
Be sure and interact on the site by sharing something on our site ether as an article or a forum post. (Make sure to post something relevant to the topic you choose. If you say something like "Hi" or "Nice site" only, that will not count.) Really engage the site and it's members;)
SHARE IT:


Share this page all over the place with the share buttons up top on the right!




Sorry but members from the UK, Russia, and all Satelite states.

The winner will be selected Jan 28th so please be sure to get everything done for the best chance to win!

Team HFI - God Bless!
People in this conversation